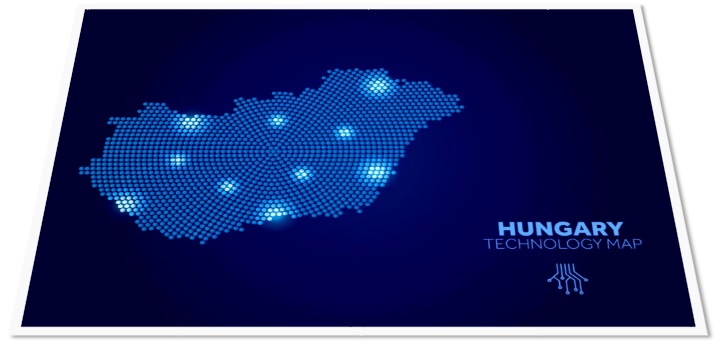 Summary
The speed of current breakthroughs in Information Technology (IT) is unparalleled in history. The digital revolution has brought with it a host of new technologies — and overabundance of choices. There is more new data being generated each day, and more ways to integrate it, than ever before. The market is fiercer than at any other time, so businesses rely on a mind-boggling array of data and technological processes to get the intelligence they need to make decisions. But in today's world, when digital disruption has become the norm, it's near impossible to stay on top of all the new trends and technologies. Inefficiencies and overspending abound and, subsequently, leveraging the latest technology has become ever more critical for companies. As a result, many organizations are relying on data architectures, software, and workflows that have not been optimized to fit their needs.
In today's globalized economy, developing IT projects with an in-house team has become much less common. More and more firms have begun to continually assess and react to rising industry designs tokeep a financially savvy business procedure that requires IT outsourcing services as a practical choice to survive in the digital world. However, such a variety of choices as cooperating with any country in the world may be overwhelming sometimes, and the competition over IT talent is a challenge that all tech companies face today.
Central and Eastern Europe (CEE) has become one of the most attractive outsourcing IT destinations. It provides a myriad of opportunities for companies that are looking for a remote IT team. Outsourcing to Hungary is one of such options in CEE. Thus, many Western European companies choose Hungary as their IT outsourcing destination. It is obvious that this country has the advantage of being in the European Union, has relatively lower development rates, and is in closer proximity to Western Europe. In this article, we are going to look beyond those factors and explore why more companies are outsourcing their software development and IT functions to Hungary now. 
Introduction
"Land of the Magyars" or Hungary as the rest of the world knows it, is a landlocked country in the Carpathian Basin of Central Europe, and a significant neighbour to Austria, Slovakia and Romania. Hungary is quite unique not only for speaking a Uralic language that is unrelated to any other major European language, but also for its highly educated, skilled and multilingual IT and R&D (Research and Development) talent pool. A combination of factors such as geographical accessibility, the world's third-fastest 4G network speed, a creative mindset, a strong focus on higher education through dedicated public universities, reduced labor costs and a vibrant technology start-up ecosystem has made Hungary a convenient outsourcing destination for most European clients.
As a business owner, you need tolearn more about how Hungarian economy has been showing significant growth within the past few years with IT outsourcing, automation and telecommunication services on top of it, and what factors are driving software development expansion in Hungary. This way, you can fully understand the nation's market as you consider your outsourcing options. Let's delve into the different aspects of Hungarian developers, IT market components, and Hungary R&D center provisioning and other IT services.
IT Market in Hungary
Hungary has one of the most advanced IT outsourcing market in CEE. The ICT sector accounts for 10% of total Hungarian GDP and it employs more than 100,000 people. Covering telecommunications, IT outsourcing, IT services, and software and hardware production, the Hungarian ICT market has grown fast in the last couple of years and leads the region in computer assembly and communications equipment manufacturing.
According to the Hungary Information Technology Report, IT services sales reached $1B in 2019. Budapest remains the driving force behind the country's development and is ranked 24th in Tholons Services Globalization City Index in 2020. IT exports have grown by 62% between 2014 and 2019. Approximately 63% of the IT revenue comes from R&D centers established in Hungary by US, UK, and German companies.
The digital economy provides direct or indirect jobs to 400,000 people and accounts for more than 20% of the GDP. The Hungarian IT outsourcing market is by far the most advanced in the Central European region. In 2016, the outsourcing services primary market in Hungary totaled €213.20 million, making it the second largest primary market in the country, with a 29.8% share. For a number of years, the share of IT outsourcing spending within the overall IT services spending is significantly higher in Hungary than in other countries of the CEE region.Hungary has ranked among the top performers in CEE in the area of IT spending per capita, reaching EUR 260.2 in 2016.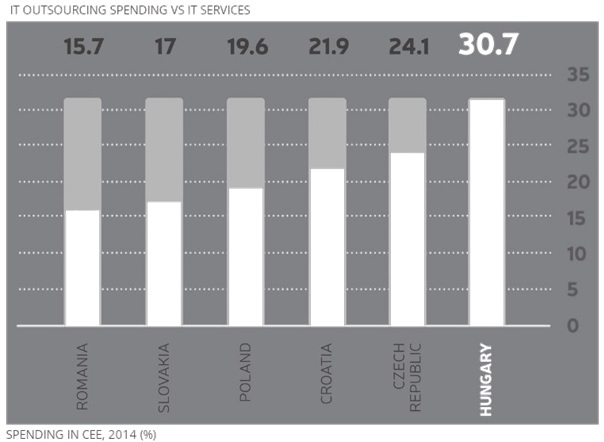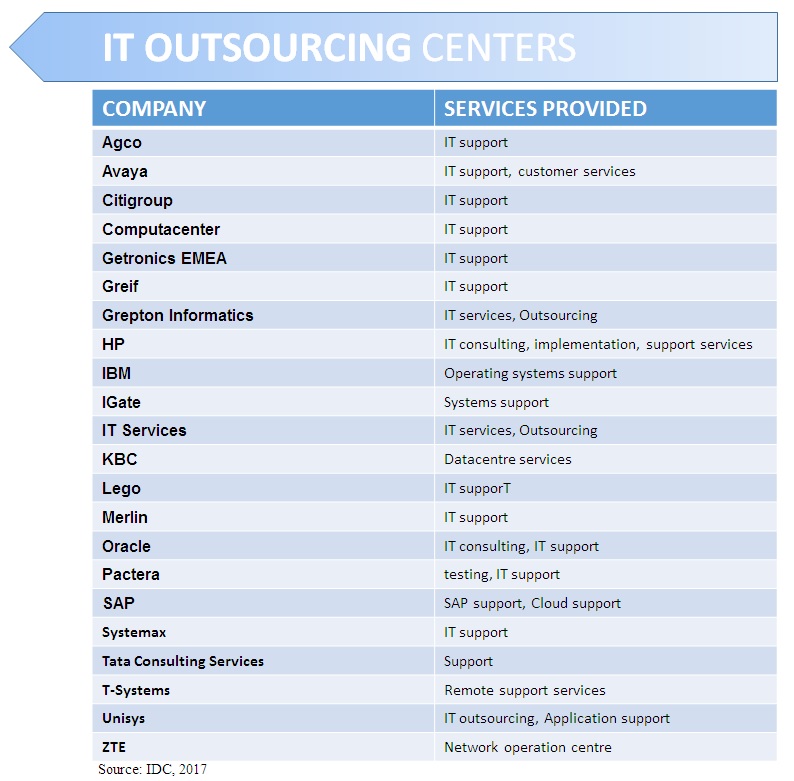 Companies and public institutions in Hungary are closing the gap on their counterparts in most developed EU markets in terms of IT development, with the share of ICT spending as part of GDP increasing to 4.3% in 2016 – among the highest in CEE. The Hungarian IT market represents 7.4% of the total CEE IT market and is the fourth largest in Central Europe.
According to the International Data Corporation (IDC), the Hungarian IT market has proven to be quite resilient to the recent global and local economic downturn. Between 2009 and 2016, it increased by 38%, reaching EUR 2.83 billion in 2016. Infrastructure accounted for 50.2% of the total market, while the software segment accounted for 21.8%, and services made up the remaining 28%.
The innovative capabilities of the Hungarian ICT sector are best illustrated by the high number of local innovative companies that have emerged in recent years. Many of them operate on international markets and are regarded as leading innovators in their respective fields worldwide. Some of the most innovative companies are listed below.

Hungary's tech talent potential is 4th in Eastern Europe, the lion's share of which lies in the high annual growth of IT students and graduates. The country has a large share of outsourcing within the IT market in Eastern Europe with 150K specialists employed in the IT sector, which amounts to 1,5% of the country's population. What makes Hungary a popular nearshoring outsourcing destinationis the EU membership, vast talent pool, its relatively low programmer rates (according to Glassdoor, the annual average is around $25,000 per year) and cultural proximity to Western European countries. They are also ranked as the 15th best English-speaking country in Europe and 17th in the world (as per 2021 data).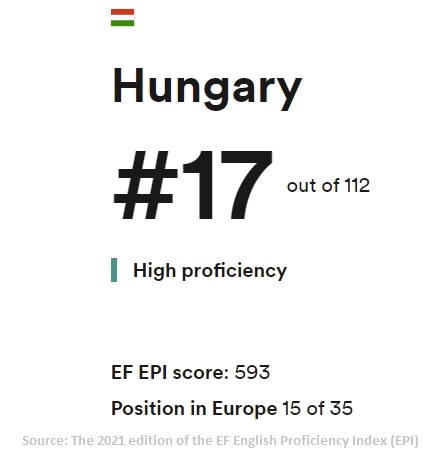 Moreover, Hungarian labor legislation is completely compatible with the European laws and standards, therefore; the country is in high demand among Europe's businesses amidst the rest of IT outsourcing destinations in the Eastern Europe.
Hungarian IT outsourcing sector's main priority lies in software development of anti-virus and IT security services. Therefore, within the past 5 years, such giants as Lufthansa, IBM, EPAM Systems, Ericsson, Microsoft, Nokia, and HP chose cooperation with the local IT specialists. Also, many R&D centers from these companies established in Hungary. This establishment creates a significant contribution to the economy, especially the development of the IT industry. The main IT centers of Hungary are Budapest, Debrecen, Pécs, Szeged, Miscols, and Veszprém.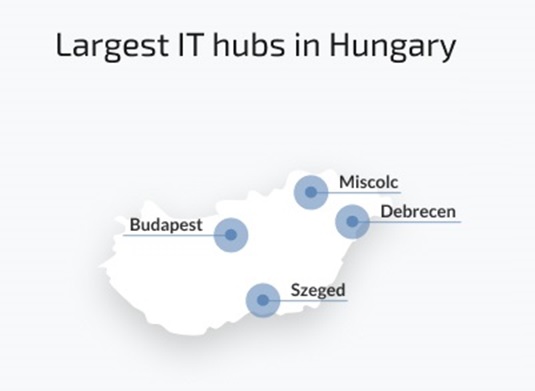 Besides the global companies, there are numerous IT market players of the local scale. IT Services Hungary is the largest IT outsourcing company that employs over 4,000 specialists and has offices in the main IT hubs of the country: Budapest, Pécs, Debrecen, and Szeged. The company also set up a subsidiary company T-Systems International, which provides the most of the back-office-type services in Hungary.
IT outsourcing to Hungary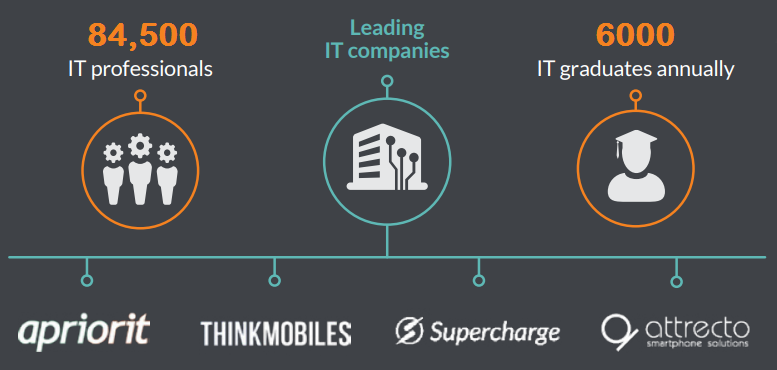 Every business owner is looking for mature and qualified software developers who have a wide range of tech skills, can work globally with any client, and ensure the highest level of communication.
In Hungary, there are around 84,500 software developers. And there are 6000 new IT graduates to join the market each year. The popular programming languages in Hungary are Java, JS, SQL, C++, Shell, Python.
According to the State of European Tech 2018 study, conducted by SkillValue by Pentalog, programmers in Hungary are ranked higher than those in Ukraine in terms of technical abilities. In fact, in 2019, according to Pentalog, Hungary's overall IT skills came third in all of Europe: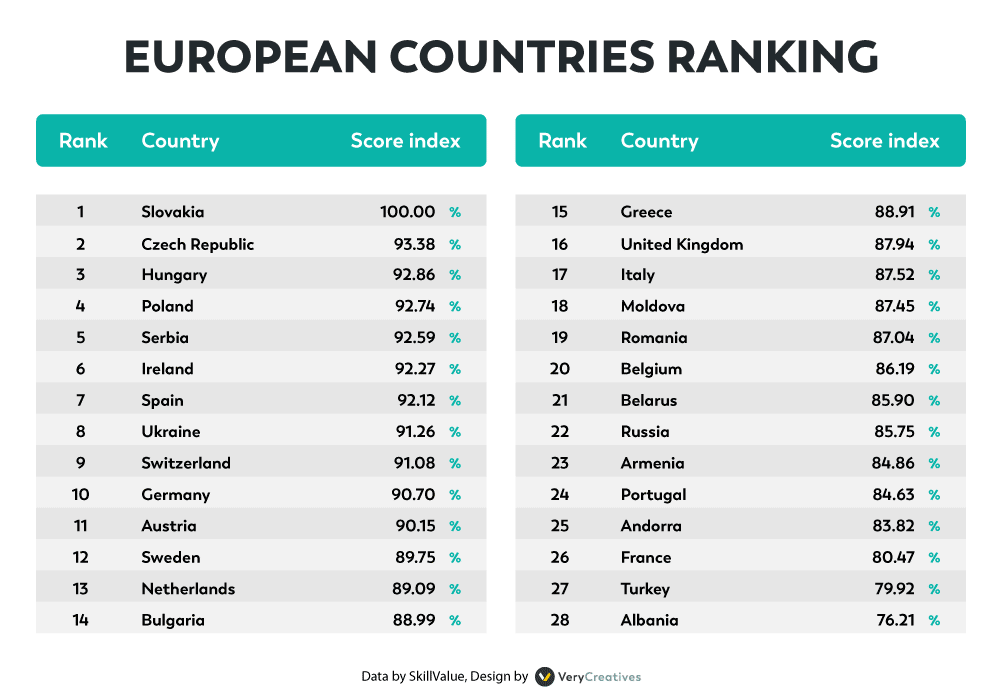 Therefore, if you're looking for more highly skilled developers, Hungary may be more suitable than most countries in the CEE and across Europe.
By choosing Hungary as a neighboring country to outsource your IT project to, you'll avoid many pitfalls and inconveniences. Hungarian IT professionals come with deep technical knowledge and fluent English, so all of them are able to understand international requests. Besides speaking the same language, having a common cultural background is more important than one would think. Hungary has a similar culture to the countries in Western Europe. Physical proximity can ensure a clear understanding of the culture, daily life, and current events of the country. Not to mention that the outsourced developer or support team share the same working hours, so all communication is done in real-time, making changes, adjustments and overall communication straightforward. If a face-to-face meeting is needed, the IT team is no further away than a few-hour-long flight, which makes travel costs much lower too. Besides that: there is probably no need for special documents or visas.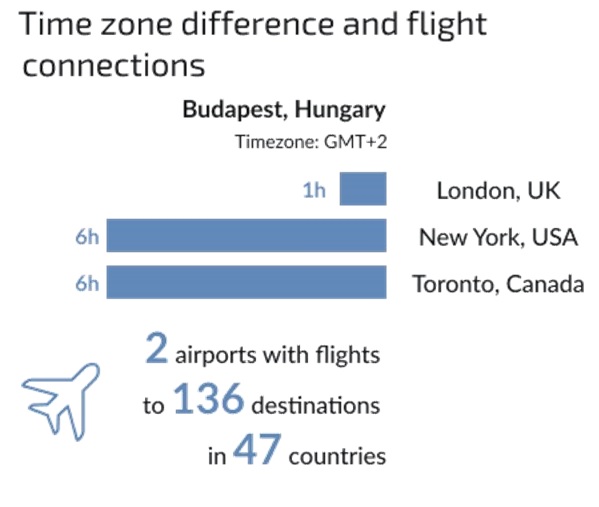 Conclusion
When it comes to hiring developers, you aren't just choosing a country on the map—you're entering into a partnership, even if it's for one project only. That's when borders lose their meaning, and things like real-life experience and client satisfaction become important. Focusing on the value your prospective software vendor can add to the partnership can be helpful as well.
The outsourcing of IT services has already become a major part of the strategy for global expansion both for international companies and multinational conglomerates.
When you search for the best IT outsourcing destinations, Hungary is one of the countries that is often mentioned, and rightly so. The country is home to thousands of expert developers and many IT companies, and the IT sector, in general, is a booming industry in Hungary. It offers such benefits as rich talent pool, qualified and experienced specialists, solid educational background, and cost-efficiency.
Choosing Hungary hiring outsourcing with ITminions can make a difference in your expansion. We deliver work of the highest quality, always within deadlines. If you are looking for hiring remote IT developers in CEE, consider Hungary as a very powerful place to hire remote developers and engineers! Our dedicated IT teams are here to help.