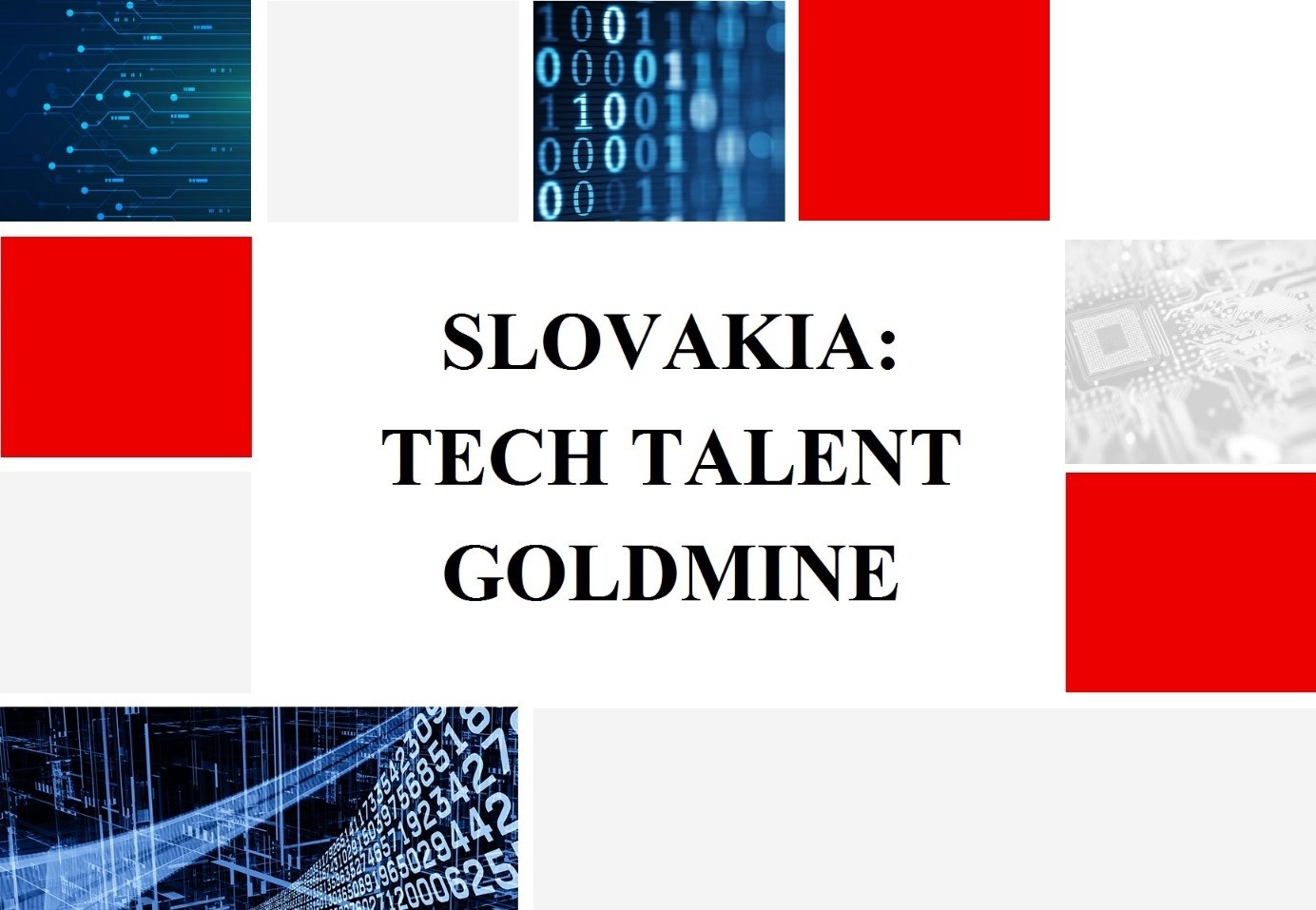 Summary
A birdy told us that you liked our previous article about the technology sector in Czech Republic. In that nature, it was simply inevitable to focus this time on our beloved Slovakia.
In 2021 the Central-Eastern European region has become one of the top destinations for software development. We aim to take you through the biggest IT hives of CEE Investors are willingly outsourcing IT services to selected CEE countries.
Each time we get to explore another IT outsourcing destination in CEE region, our finding proves to us that there's no right or wrong country in terms of software development. IT industry in Slovak Republic has truly impressed us with its thrive for innovation, investments in higher education, and stable level of growth throughout the years. However, don't forget that you outsource to a team, not to the whole country at once. That's why the research conducted by a person looking for IT outsourcing in Slovakia has to be much deeper and aimed at evaluating the particular squad. Let's get to the facts and figures about this country. Find a comfy position, and come with us on a journey inside Slovakia's tech talent stronghold.
Intro
In today's society, modern Information Technologies (IT) are considered to be a decisive factor in economic and social development. This is in large part due to the fact that such technologies make it possible to overcome the obstacles of distance and unfavourable geographical location. Implementation of strategic decisions in conditions of intensive development, growing competition and recurring crises contributed to the growth of enterprises' interest in outsourcing as a modern concept of enterprises management.
One of the smaller members of the European community, Slovakia may have fewer than 6 million inhabitants but that is not stopping those citizens from making a determined effort to get noticed as a destination for global IT outsourcing as valid as its bigger, and arguably more visible, neighbours. This article introduces you to Slovakia's dynamically expanding IT sector — activities especially related to computer programming and internet services, and presents why Slovakia is an outstanding destination for setting up IT businesses and outsourcing.
Inside the Slovak IT Market
The IT market of Slovakia has grown significantly since the country joined the EU in 2004. Skilled talent, strong STEM education, and a stable economy make this location attractive for businesses worldwide. According to Fitch Ratings, Slovakia's economy will obtain a GDP growth of 4.5%, with that number climbing to 5.5 in 2022, which will make it the fastest growing economy in Central and Eastern Europe. The greatest driving force in the Slovak economy are the positive outcomes of competitive economic growth based on export, a stable inflow of foreign direct investments and membership in both the EU and the Eurozone.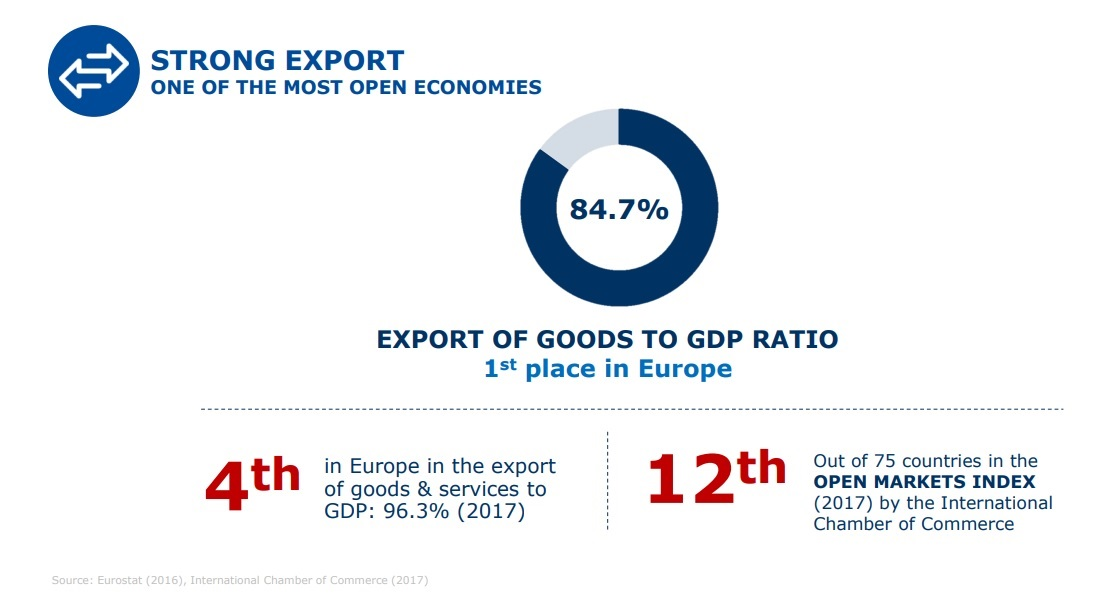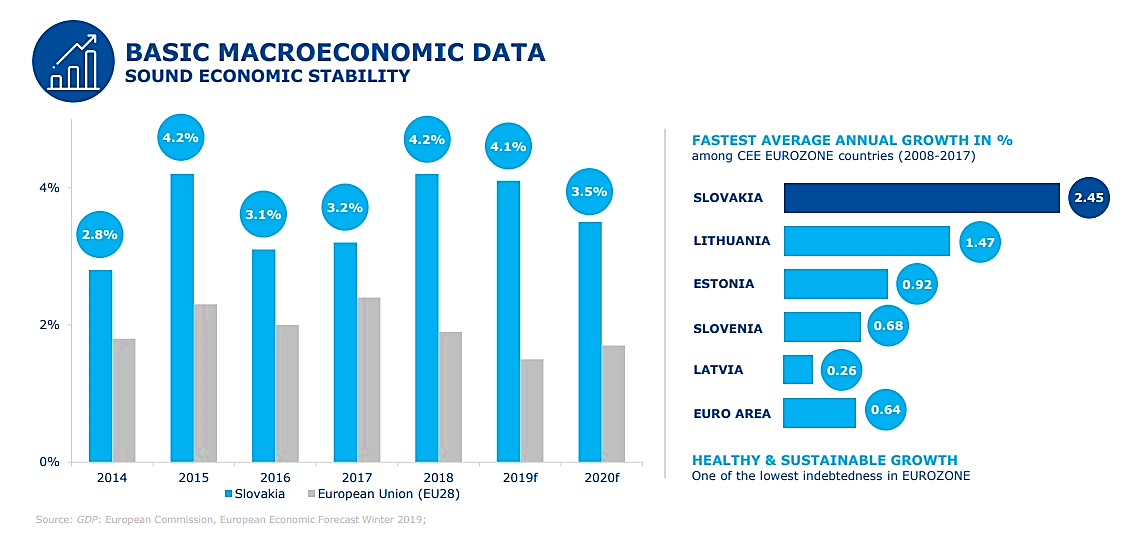 The ICT (Information and communication technology) sector plays an important role in the Slovak economy, what is demonstrated by the presence of foreign–owned companies as well as strongly growing domestic companies. Due to a favorable combination of business advantages, Slovakia has become an attractive destination for IT investors. Based on the Global Competitiveness Report, Slovakia is the best in IT adoption among Visegrad group countries (Poland, Czechia, Hungary, Slovakia). The country is not only developing software but also became a strong player in the international arena of computer technologies. IT technologies became an integrated part of the daily life in Slovakia. Their role continues to grow which is reflected by steadily raising adaptability of the Slovak population to IT technologies.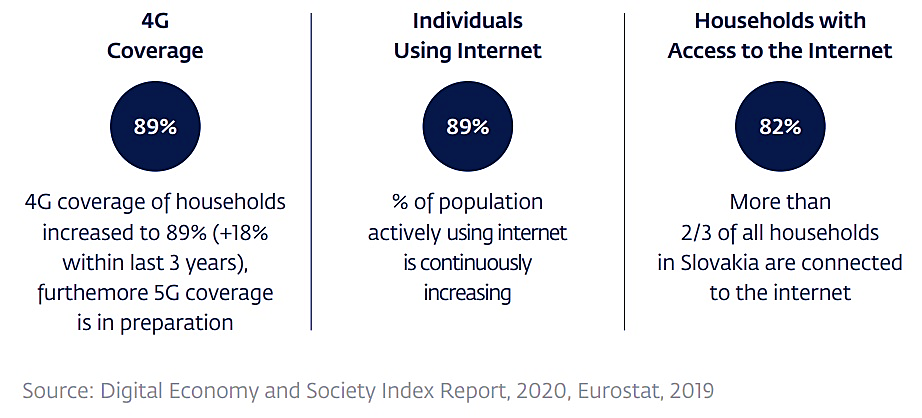 The main contribution of the IT sector across the economy is promotion of economic growth of the country. The current contribution of the IT sector to the Slovak GDP reaches 4%. Slovakia boasts a GDP of $106.5B, with IT export of $2.5B. A positive aspect of the IT sector is higher wages than in other sectors. The Slovak specialists claim that the local IT industry income taxes paid exceed the ex-leading industry – automotive – by several times. Even when the number of employees in the IT sector is below the overall employment of the Slovak republic (2,5 %), the share of the total tax levy is 4,7 %. This results from the high-wage sector. The share of ICT firms income tax is 9,6 % in 2015.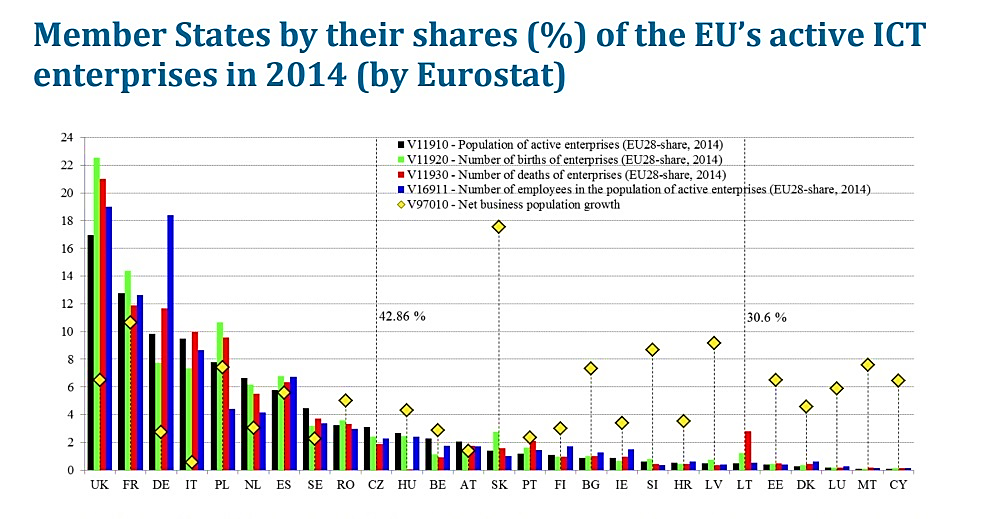 In 2014, Slovakia had 3rd highest Net business growth of ICT enterprises in EU. With the new seven-year budget of the EU, Slovakia will likely maintain its stable position in the IT market by benefiting from resources in the EU Next Generation apparatus. The country could gain up €6.3 billion in grants and loans for public investments between 2021 and 2026 from the Next Generation EU fund.
According to Doing Business 2020, Slovakia is of one of the most favorable business locations in the world, ranking 45th among 190 countries worldwide. The main IT cities of Slovakia are Košice, Žilina, and Bratislava.
Of 21,366 employees in the Slovakian business service centre industry, 69% are educated to first degree level. Market opinion shapers such as AT Kearney and Gartner consistently give the place a big thumbs-up as a destination for outsourcing IT. Global companies use internal offshoring via service centres or shared service centres. Among those in Slovakia employing thousands of people are HP, IBM, CGI, Microsoft, Dell, Lenovo, and Cisco have strong local presences – attracted by the chance to access talent pools who can speak not just English but also Russian and German as second languages.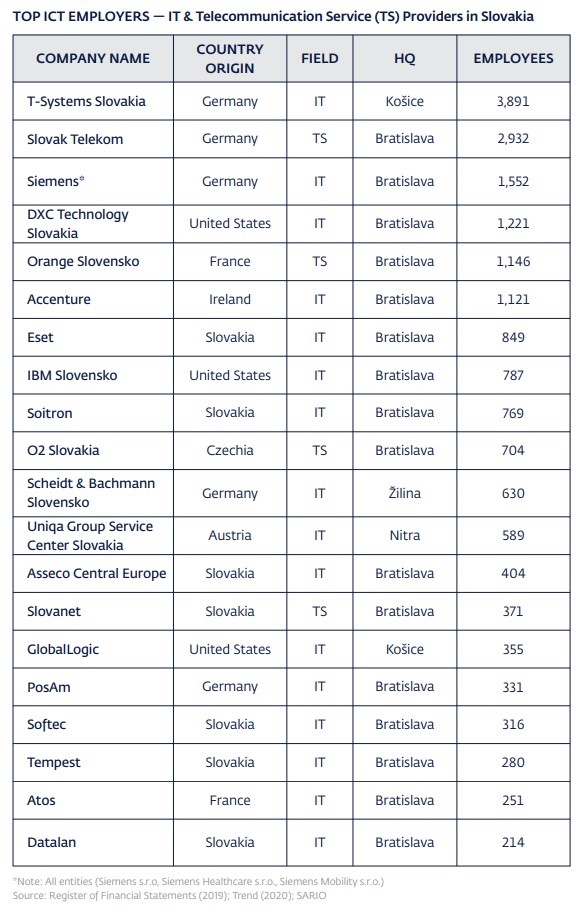 Some 18k Slovakian citizens are already working in shared delivery, while a further 10k work in the wider local tech sector. There is a strong emphasis on charity and volunteering within the sector – in 2013, 31,758 hours were spent volunteering by IT and Business Services Center (BSC) employees. Employers also like the technical chops of the Slovak workforce, which contributes more than 5% of the country's total income at the moment. IT and business-process-outsourcing services and contact centre facilities, as well as core back-office functions such as billing, HR, and facility management, are all now easily bought in the Slovak market.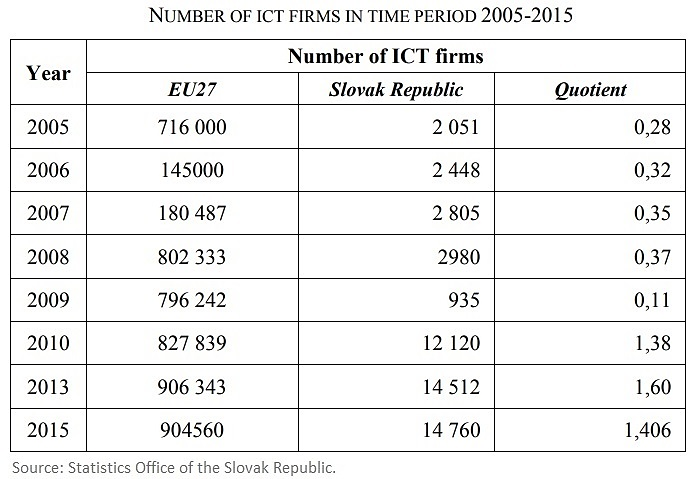 The IT industry in the Slovak Republic, according to the Statistical Office of the Slovak Republic, has been one of few industries in which the employment has continuously grown and this sector has the lowest unemployment rate of all sectors of the economy and permanently grows. The total number of employees in the sector grew by 60% between 2008 and 2020. Slovak developers typically work with businesses in fintech, leisure, government, and others. The vast majority of tech specialists live in Bratislava, Košice, and Zilina, However, the majority of developers in Slovakia live in the first two cities.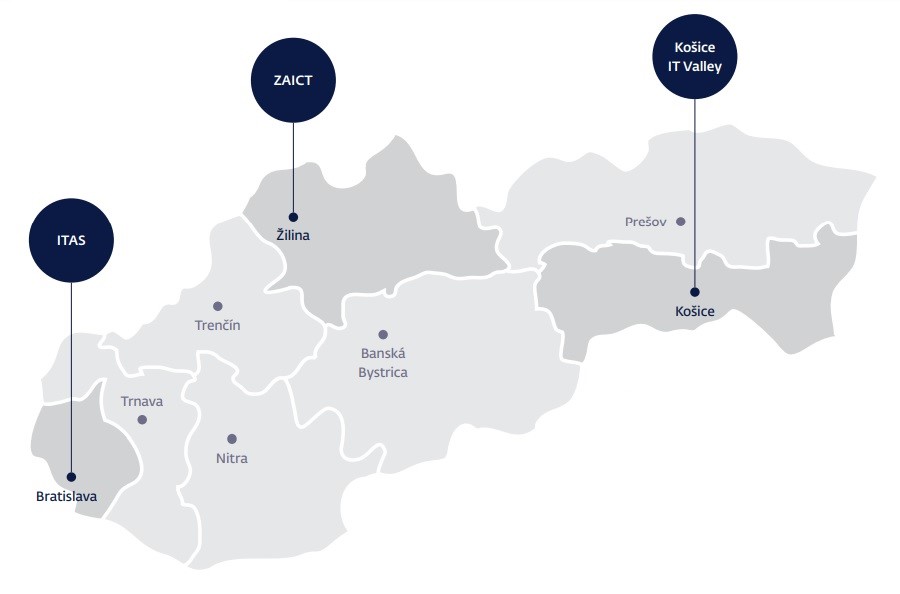 Bratislava ranks first in Slovakia and 148th globally, due to the strength of its startup ecosystem, according to StartupBlink. Most IT service centres in Slovakia are based in Bratislava because it offers modern office space and a large number of university graduates with good language skills. The advantage of Bratislava Region is an excellent transportation position as well. Many global companies have established their presence in the Slovak capital. According to PayScale, the most popular employers in the capital are Amazon.com Inc., AT&T Inc., and Johnson Controls Inc. Their presence in the employment market, however, creates fierce competition for skilled talent.
IT Association of Slovakia (ITAS) is the largest association uniting all important Slovak and international IT/ICT companies in Slovakia. Today it represents more than 100 members (80% of ICT market) from private IT/ICT sector. Companies represented by ITAS employ 35k people. ITAS runs several projects including: Digital transformation of private sector interlinking the ICT sector with other Slovak industries, digital transformation of public sector via active cooperation on Digital Coalition project, support of educational initiatives at all levels — from academic programs to requalification, IT Testing — verification of IT skills among population in Slovakia.
Industries that opt for outsourcing software development to Bratislava most frequently are leisure and health. As a capital, Bratislava attracts the best talent from the whole of Slovakia, so the salaries in the city are 3-5% higher than in other hubs. The Cost of Living Index by Numbeo ranks Bratislava as the most expensive city in the country. Although salaries in the ICT sector are above the Slovak average, in comparison with the Western EU countries remain significantly lower and still competitive in the CEE region.
According to StartupBlink, Košice ranks second in Slovakia and 521st globally, based on the strength of its startup and outsourcing ecosystem. The most vibrant industries in the city are IT, leisure, and fintech. Košice boasts an IT cluster: Košice IT Valley unites 30 companies and legal entities that created around 6K jobs since their inception. The cluster members also plan to create the center of IT excellence and attract more young people to join the national IT community.
Žilina region has an excellent international transport position. The IT Cluster in Žilina unites in total 12 companies, universities, and governmental institutions in the northern part of Slovakia.
The majority of IT services in Slovakia are composed by application support and other tailor–made services (such as helpdesk, network administration, cloud storage, remote support, etc.) followed by tailor-made software development and outsourcing.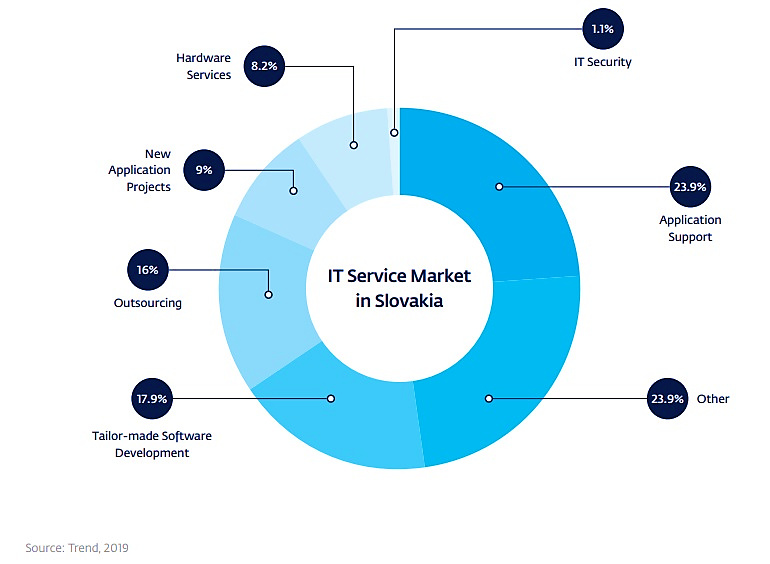 IT competences of Slovak labour force
Slovakia houses a tech talent pool of over 55k IT experts. And year by year, this number is growing since there are over 5k graduates from the local educational institutions. Almost half of secondary school graduates keep on studying at universities, thus creating qualified and skilled labour force. Programs including IT studies are becoming more and more popular & sought after by young generation.
When it comes to IT education, there are seven ICT faculties at six major universities that offer programs for learning computer science. Besides solely ICT programs there are also other study fields relevant for game development industry, such as animation, visual effects, production, distribution, game design sound production and others. This education is provided by nine arts faculties. All these institutions are recognized by the Times Higher Education world universities ranking.
The Slovak labour force is perceived by foreign investors as educated, motivated, adaptable to culturally different management styles with great multilingual competences and very positive attitude to work habits. The professionalism of developers from Slovakia is also proven by the SkillValue report, where they have made it to the first place. What concerns the tech expertise, according to the SkillValue report, Python developers from Slovakia are more skilled and knowledgeable than experts in other technologies.
One of the main facts that attract foreign companies to cooperate with Slovak IT sector is that Slovak higher education institutions offer at least one foreign language course at primary school and continue improving it further on. As a result, 88% of the Slovaks speak at least one foreign language beside their mother tongue. OutsourcingReview states that 92% of developers in Slovakia are fluent English speakers, 46% - German (due to proximity to Austria), 13% - Russian, and 5% - French. That is one of the reasons why software development in Slovakia is flourishing.

What's more, as far as English is concerned, the country is recognized by the EF English proficiency index as a country with high English proficiency.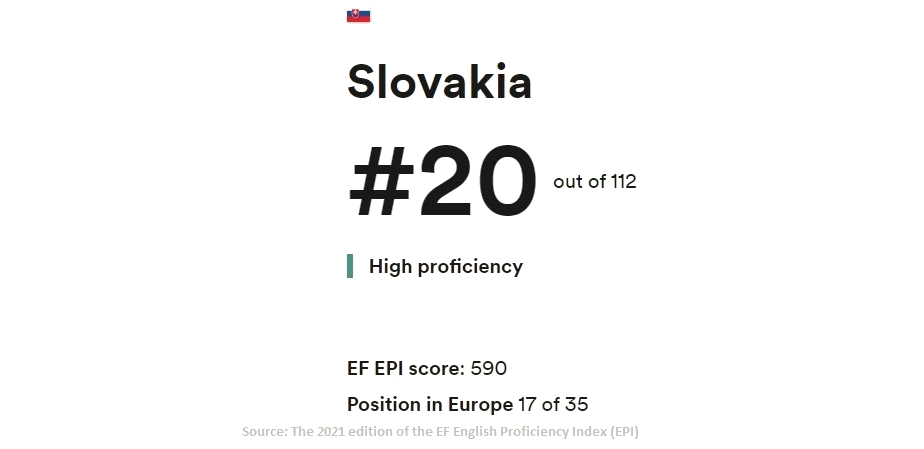 Many Slovak experts state that tech conferences are an essential source of new information. Although in 2020, the vast majority of such events take place online, Slovakia still organizes around 50 versatile conferences annually. Bratislava, as a capital, houses the lion's share of them. Such events as International Conference on Computer Science, Machine Learning and Big Data, International ITAPA Congress (the most prominent IT conference in Slovakia), and many others take place in Bratislava.
One of the biggest advantages Slovakian IT companies have is a qualified IT workforce. Slovak companies stand behind numerous globally well-known IT products. Among the most successful IT companies were presented by brands ESET (a global leader in security software developmentincl. award-winning NOD32® Antivirus. It protects users in 180 countries), Resco (a global leader in developing cross-platform mobile software solutions.), Soitron (developed a system for intelligent police cars and provides IT solutions from integrated communication systems to mobile police units.), Pixel Federation (Top game studio in Slovakia.), Sli.do (The ultimate Q&A and polling platform for live and virtual meetings and events), NG AVIATION (a unique platform for digitization of aeronautical data), PHOTONEO (a leading provider of robotic vision & intelligence as well as the world's highest resolution and highest accuracy 3D camera solutions.) and Innovatrics (Wide range of application e.g. Biometric Software for identity management based on fingerprint & face recognition technology).
Several Slovak companies have placed in 2020's Deloitte Technology Fast 50 in Central Europe ranking. The program recognizes and profiles the fastest growing technology companies in the region. Kontentino placed the best of them, ranking 10th with the growth rate at 1,536% in 2016-2019. The company creates a tool tailored for ad agencies and brands. Another Slovak firm, SuperScale, placed 14th with the growth rate at 1,306%. It focuses on increasing revenue from mobile games. In the Rising Starts category, focusing on new and fast-growing firms, Expandeco, which offers expansion services in e-commerce, placed 13th. Three Slovak companies with a positive impact on the business environment, society, environment, diversity and innovations made the ranking, namely Touch4IT with its software solutions and digital products, eRobot which deals with AI solutions for the self-maintenance of industrial robots, and Sensoneo, dealing with waste management.

Conclusion
Slovakia is becoming more and more popular as a country providing outsourcing services, especially in the areas of IT, facility management and business processing outsourcing (BPO). Given its cultural affinity to countries in western Europe, its fantastic location in terms of access to Vienna, Budapest and Prague, and highly competitive labour costs – labour that has a strong component of university graduates, many of whom have excellent language and technical skills and work habits – these are the primary reasons for experts in the field to believe the long-term potential of this eurozone member looks pretty convincing for companies to establish outsourcing operations in the country. Based on a global CEO survey conducted by PwC, data show that the demand for outsourcing continues to rise in the next years. The experts also see IT as most promising for further growth of outsourcing from within Slovakia, with call centres, facility management, human resources, accounting services and logistics as other potential areas.
Are you looking for Slovak talented software developers? Get in touch with us; our teams of IT experts will help your business take full advantage of technology.