Summary
The world has witnessed a huge shift of IT workforce from developed countries to cheaper regions in the past several decades. So, outsourcing might seem like a no-brainer and an ideal solution to any development challenge. It is the case in many situations, but there are several aspects to consider when it comes to choosing the right IT outsourcing country for your company. It's been a lot said about how great IT outsourcing to Central and Eastern Europe really is. Everybody knows it's cost-effective, time-saving, and to put it shortly, great for any business. However, CEE is a bunch of countries with their lifestyles, cultural differences, laws, and business rules. We have already reviewed Poland from IT outsourcing perspective. In today's article, we're going to explore one of the most promising IT outsourcing destinations in CEE — Czech Republic. How's it going with software development there? Let's find out.
Introduction
Located in the heart of Europe, the Czech Republic, also known as Czechia, famous for many things, such as its wonderful castles, glorious Gothic architecture and historical figures. There are so many things you could associate Czech Republic with! But for those who want to dive deeper into its landlocked nation, you will find out that the Czech Republic is a land that makes world-class sports players, musicians and also a wide pool of capable coders. Today, it is considered to be one of Europe's top locations for global sourcing of IT services.
Its beautiful capital city, Prague, is one of the continent's finest cities and a popular tourist destination. Most travelers, however, don't know that Prague is classified as an "Alpha" global city according to the GaWC studies think tank. With its strategic location, educated workforce and competitive infrastructure, the Czech Republic has long been an appealing destination for overseas firms. It is one of the most successful European countries in terms of attracting foreign direct investment, with over 173,000 Czech firms across all sectors now supported by foreign capital. This article is devoted to the IT outsourcing in Czech Republic. We'd also like to draw your attention to the country's IT market and education.
Czech IT Market: Overview
On the IT outsourcing world map, Czech Republic has made its brand name and secured positions decades ago. So, no wonder this country is one of the most attractive IT outsourcing spots highly appreciated by both North America (the US and Canada) and Western Europe. The country is experiencing a 10% increase in IT outsourcing services year over year. As a gateway to western and eastern markets, with high speed railways and three international airports, the Czech Republic boasts an enviable and favourable position in Central Europe – and has the infrastructure in place to take full advantage of it.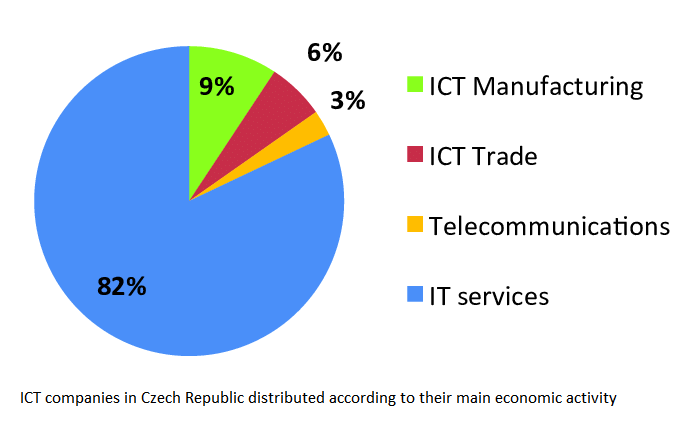 Despite being one of the most mature IT markets in the region, the Czech Republic still offers plenty of growth potential. In the lastdecade the IT sector in Czech Republic significantly developed, both in manufacturing and in services, and became among the most dynamic in Europe. The country has seen an influx of foreign companies in recent years due to a favorable investment environment, while local players are among the world's most renowned technology companies. Observers see this as coming down, fundamentally, to a compelling combination of technical competence, language capability, political stability and the sheer advantage of proximity. Thus AT Kearney, the management consultancy that tracks the global sourcing market, in its 2014 Global Services Location Index, singled the country out as a great outsourcing location for continental Europe down to its "large software engineering talent pools.
An extensive infrastructure of excellent scientific centres has been built in the Czech Republic in recent years. Centres like ELI, CEITEC or IT4Innovations have managed to establish partnerships with foreign partners and have excellent equipment and top scientists at their disposal via their extensive networks. This has helped the Czech Republic to assert itself in fields such as information technology (IT). Moreover, a lot of innovative domestic companies have emerged, especially in IT industry, adding to the economy's competitive potential.
According to a survey conducted by Coding Bootcamp Prague and Techloop, the IT sector now employs over 316,000 people. Czech Republic has been continuously showing shockingly high ROI index in the IT sector. This fact is confirmed by the new technologies growing naturally in the established environment of recognized IT universities, institutions and research centres. This also has been constantly approved by Microsoft, Skype, IBM, Tieto, Deutsche Börse, RedHat and SolarWinds choosing Czechia as their R&D destination of choice.
The list of market leaders enjoying Czech technical expertise doesn't end just there, as well as it's not limited to IT outsourcing. It's necessary to mention that a full range of IT companies with Czech origins renowned worldwide for their products, such as AVAST and AVG, GoodData or Socialbakers, are internationally successful in the fields of cyber security, data protection, analyses and processing.
The Czech Republic is the world's 47th largest economy and ranks 27th among emerging markets in terms of GDP. The information and communication technology (ICT) sector was one of the main growth drivers of the Czech economy in 2017, expanding its GVA by 6%, well above the GDP growth rate of 4.4%. As a result, its share in the country's economy rose to 4.7%. The sector also had an important social impact – it employed 114,100 people in 2017, or 2.8% of the total number of employees. It also offered the highest wages in the whole economy. A stable legal environment and government earned Czechia an A1 rating from Moody's. The corporate income tax rate stands at 19%, and the local IT sector is energized by handsome state incentives, including cash grants of up to 75 million US dollars, corporate tax relief for up to ten years, job creation grants and training and retraining grants. Deloitte has ranked Czechia as a country with very low-risky economics and business climate (A2), meaning it's a welcoming option for investing. Local authorities also established the state agency, CzechInvest, which offers full-stack support to potential clients and investors opting for the local businesses. The Agency helps to solve various management tasks, providing necessary information and data on available locations, information support, matchmaking, supplier identification and so on.
One of the peculiarities of the country is that Czech digital products are very popular with locals, to the point Seznam.cz — a search engine developed in Czechia — beats Google up by the number of online searches. Aside from the tech skills we'll talk about more precisely a bit later, Czech IT developers are known for solid English literacy, Western-oriented mindset, and strong work ethics. These are just a few proofs of Czech Republic being an attention-worthy destination to look at in terms of outsourcing IT in Europe.
Thanks to investments in IT infrastructure, not only Prague, but also other Czech regions are becoming attractive destinations. The capital city is not the main IT hub – Prague is extremely attractive, but Brno, second largest city by population in the country, is the city where lots of R&D centers, institutions and specialists work. Slightly less popular Czech city that yet still appears on the radar of people interested in outsourcing IT to Czech Republic is, Ostrava — a smaller city in the north-east of the country — becoming another popular destination. Namely, one of the leading European software development vendors Tieto has an office there.
And the final bit of good news concerns local salary and benefits expectations, which are rated by those familiar with the job market here to be much less than in the UK or the rest of Western Europe. The country's cost of living is fair. The average monthly wage is about 26,000 CZK, which is around $1,000. In contrast, the average monthly wage in the United States is $4,000, and the average monthly salary in the United Kingdom is £3,000 ($4,078). For app developers, these numbers will reach $10,000 a month. Consider the example of an experienced web developer located in-house in London and outsourced from Czechia. Actual numbers might vary according to the skillset and seniority, but we usually see savings of up to 50% for a typical candidate.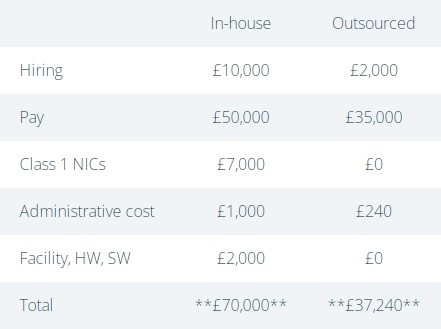 IT Education in Czechia
Czech Republic is famous for its high-level educational institutions in general, and in IT specifically. There is a long tradition of academic excellence, stretching back to 1348, when the first university in Central Eastern Europe was established (Prague's Charles University) and operates until today. The average number of people with tertiary education is at 31%, which is even higher than that of Germany at 30%.
Nowadays, its universities, led by the two main hubs of the Technical University in Brno and Prague, release a stream of accomplished graduates in engineering and computing. Czech universities attract thousands of high-school graduates annually, including those who seek to acquire higher education in IT. As for 2019, the most popular universities in Czechia are Charles University in Prague, Prague Czech Technical University, Masaryk University in Brno, Prague University of Economics, and Brno University of Technology.
There are more than 150,000 IT professionals, with 7,000 computer science students graduating each year. The overall number of tech students as of the end of 2016 amounted to over 90K, out of these almost 8K graduated from universities with different degrees in information technologies. Therefore, the local IT industry is constantly being fuelled with young specialists which is a decent add-on to the already existing Czech IT talent pool.
Big tech companies like Microsoft and Oracle have already founded R&D centers in the country to take advantage of such a large talent pool. In fact, Czech youngsters tend to gravitate towards very practical/vocational degrees as a rule, which helps cement their national reputation for a strong work ethic. Western firms working in the market there say they can easily access a wide variety of IT services skills, spanning an impressive range of business process outsourcing (BPO) competencies, a wide variety of application services, plus some infrastructure management capabilities.
Higher education in Czech Republic has one amazing benefit compared to other European countries, especially those that used to be in USSR. Namely, local universities support an advanced cooperation between the institutions and businesses – in order to supply the labor market with demanded specialists, educational establishments should know what specialities and skills are to be acquired by future specialists to get hired immediately after graduation. That way, institutions of higher education timely update their curriculum and deliver learning material that's valuable in practice to students. Such an approach results in the Czech labor market being of the most qualified in Europe, regardless of the field of expertise.
The programmers are skilled in a wide range of languages and domains. You'll find the talent you need in Czechia, whether it's for front-end, back-end, hybrid, or mobile app production, CRMs like Salesforce, or full-stack development. Java, PHP, C, C++, C#, Python, Ruby on Rails, and Swift are among the languages that most developers are familiar with.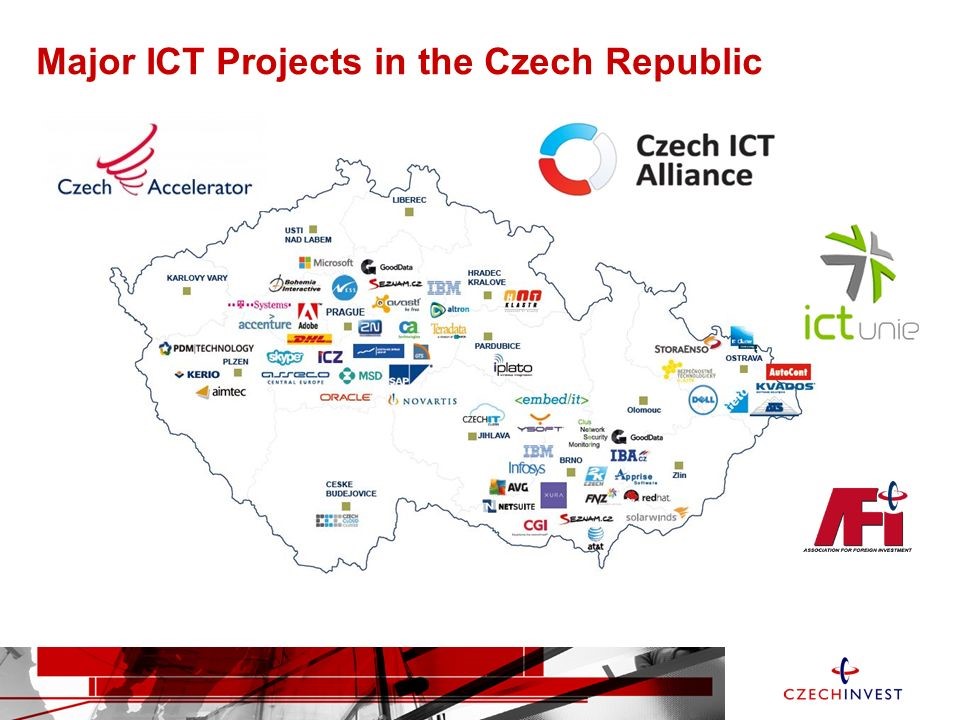 These talented locals have already produced some high-quality items. Seznam.cz is a local search engine that outperforms Google. A Czech team is behind the famous anti-virus program Avast. Czech players designed and developed video games such as Secret & Dangerous, Euro Truck Simulator, and ARMA: Armed Attack. Also, a multitude of local e-commerce platforms and distribution applications. Furthermore, the Czech Institute of Informatics, Robotics and Cybernetics (CIIRC) of the Czech Technical University in Prague is working with Airbus Industries to develop ARUM–a flexible production planning and scheduling system for aircraft assembly tasks.
Important IT projects are focused on developing new technologies for automatic transcription of audio-visual recordings of lectures and court proceedings, and automated online monitoring of streamed news. The EyeDentity project for identifying facial features even under difficult conditions holds promise for the security sector. Helpful new technology is also being developed for speech processing to improve communication between humans and computers, and to help navigation for people with a disability.
Czech teams from Charles University, Prague, together with industrial partner Lingea Brno have developed state-of-the-art systems for automatic translation which are helping to crack the language barrier still present in the EU digital market.
Such breakthroughs show that Czech developers are one of the best IT specialists in the world. Their 9th rank in the World Programming Olympics is better than developers from typical outsourcing locations like Romania, Bulgaria or Ukraine, but also than developed tech states like Finland, Sweden, South Korea and even the U.S. (28th) and the UK (29th).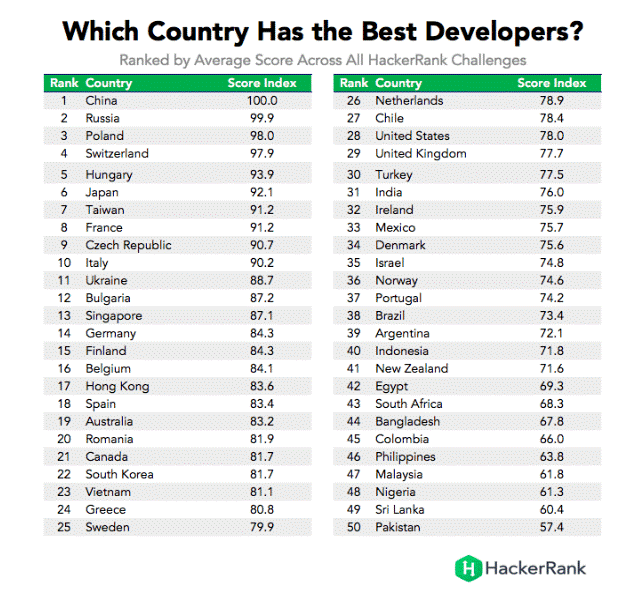 For a cosmopolitan country at the heart of Europe, meanwhile, it's always been something of a necessity for Czechs to be multi-lingual. That legacy means you can bank on strong competence in core world business languages like English, German and Russian – another reason businesses are looking to Prague for outsourcing. EF EPI World's largest ranking of countries by English proficiency ranks Czechia 16th among 70 countries with the mean years of schooling at 12.3 years. That is on pair with Britain.
Conclusion
Czech Republic has opened up itself to new investment with stability, a strong emphasis on technologies and strategies that are designed to ensure the success of your business regardless of its location. Many IT professionals in Czechia are already looking for jobs at well-known multinational companies. With a huge talent pool, technical nous, excellent IT infrastructure, language fluency, favorable time zone, and competitive budgets, the Central European nation has everything you need. You'll find much more services for your tech project as the market progresses. We can expect Czech Republic's IT outsourcing to grow significantly this year, and exponentially in the next five.
If you would like to hire a Czech engineering team or need several specialists for your IT project, contact us now. Our team is always ready to help with the hiring process.