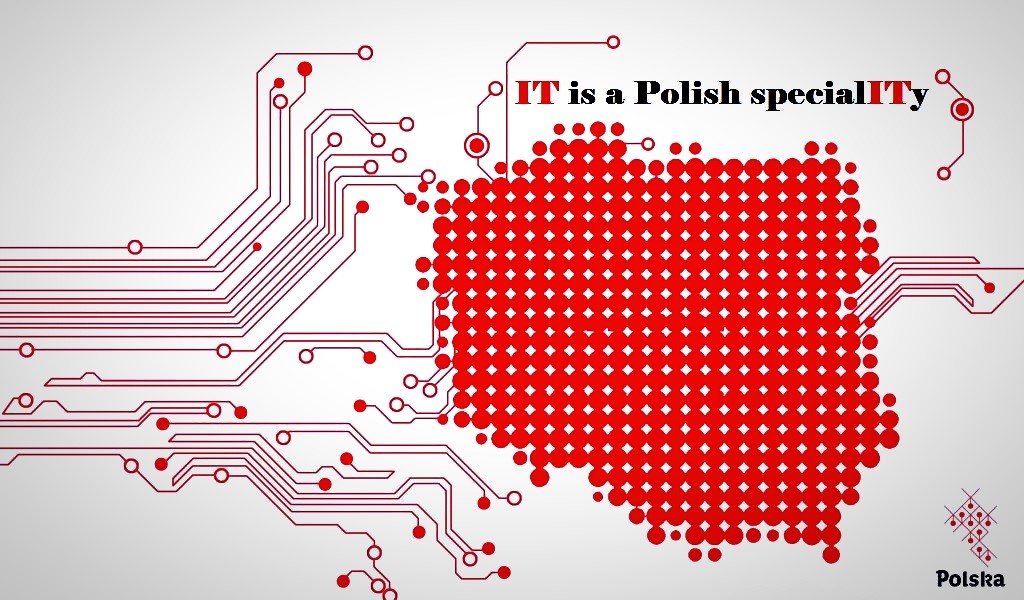 Summary
Poland is home to the most competitive IT sector of all 23 countries of Central and Eastern Europe. There are multiple factors that made Poland the center of IT in Europe. If you haven't discovered the strengths and charms of this country yet, this article brings a closer look at how Poland proves so successful in the world of new technologies and why it's worth to choose Poland for IT outsourcing.
Intro
The information technology (IT) industry is one of the fastest growing sectors in the world. IT spending worldwide is expected to reach about $4.2 trillion in 2021, a 9.5% increase in growth compared to 2020. Poland IT industry is no different in this respect, however, there are a few peculiarities about it that make Poland a great IT outsourcing destination. In the article below we present the reasons why international companies choose Poland for outsourcing IT and what's so specific about Polish IT industry. If you consider outsourcing your IT functions to Poland – here's pretty much everything you should know.
Overview of IT industry in Poland
In the early 1990s, after the collapse of communist rule, the Poland economy started transforming and started to move towards privatization. Today, Poland's economy is one of the fast-paced growing economies in the CEE region. Polish IT industry is the most innovative sector of the national economy, and one of the main drivers of the growth of Polish economic development, with high fundamental principles and future growth prospects. The country is also one of the winners when it comes to the global financial crisis, which helped it to offer products and services that have been short lately – economic stability. That is the main reason why companies started to be interested in the Polish market.
For several years now, countless foreign companies rely on Polish developers to deliver software essential to their bottom line. The Polish IT industry is recognized around the world for its high level of specialists and their creativity, as well as the high quality of the services it provides, the availability of advanced infrastructure and cost-effectiveness. This is the result of both the creation of domestic IT companies and the enormous interest of international corporations in opening their branches and large centers of modern services in Poland, employing hundreds of employees. The largest foreign investors in the IT sector, present in Poland for many years, include leading players on the global market such as HP, Google, Amazon, Samsung, IBM, Cisco, Intel, Microsoft, Oracle and SAP.
The IT industry constitutes about 8% of Polish GDP, employing over 430k people, of which three quarters are employed in the services sector. Every year, the number of employees increases by approx. 6%. According to the latest projections of Oxford Economics, the Polish IT sector will be one of the fastest growing industries in Poland during the next few years. Poland's IT market is the second-largest in Central and Eastern Europe (exceeded only by Russia's).
In 2017, sales of IT equipment constituted as much as 55% of the Polish IT market. IT services (outsourcing for instance) came in second, with 29% of the market. The smallest share belonged to software, with 16%. The exports of IT products from Poland in 2018 amounted to EUR 10.7 billion. The main recipients of Polish IT services are UK, United States, Switzerland, and Germany.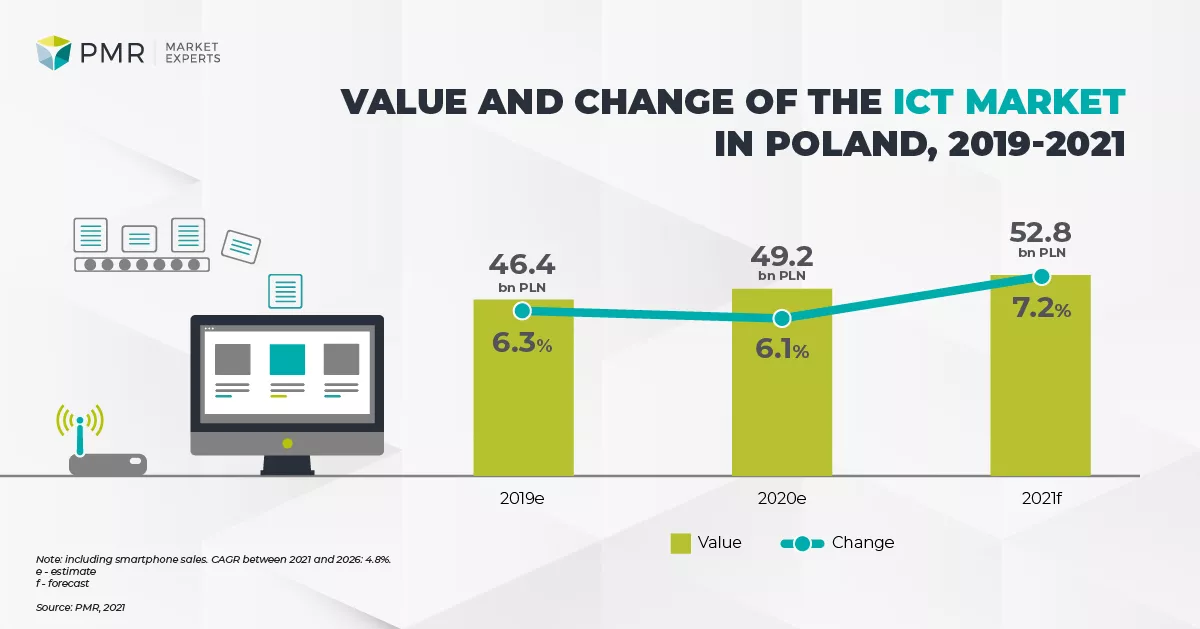 Despite initial concerns, the value of the IT market in Poland in 2020 proved resilient to both the COVID-19 pandemic and the crisis caused by it. According to the last infographic made by PMR, the estimations of the information technology sector, which includes hardware, software and IT services, are quite favorable: PMR estimates that last year IT spending in Poland grew by 6% to PLN 49.2bn and the prognosis for 2021 was PLN 52.8bn.
Poland IT market is expected to cross $13.00 billion by the end of 2025, mainly driven by industry verticals such as BFSI, telecom, manufacturing sector and IT outsourcing market. The IT service sector is currently leading the overall IT market of Poland, followed by the IT hardware market.
Between 2021 and 2026, PMR forecasts further positive growth trends in the IT market in Poland, with a projected CAGR of 4.8% during this period. Over the six-year horizon, IT spending will grow in all segments of the market. However, due to the strong saturation of the hardware market in the years 2020-2021, the focus of IT investments will be shifted primarily to the software market in the B2B segment as well as to the services market. IT spending will be supported by the second wave of digital business transformation initiated by the COVID-19 crisis.
In its forecasting model, PMR takes into account the positive impact of EU funds on the IT spending market in Poland. Under the EU Reconstruction Fund for 2021-2027, digitization is one of the funding priorities. Poland will receive a total of nearly EUR 23bn from the Reconstruction Fund for all priority areas, 20% of which will be earmarked for digital transformation. Converted into PLN, this is about PLN 20bn.
Even though, the Polish IT industry is as a relatively young sector. Most of the operating enterprises were established after 2011, and only 5% of them were established before 2000. Currently, the domestic IT market includes around 60 thousand companies, both Polish and foreign. The domestic IT services market is driven primarily by the digitization of public administration, the enterprise sector and services. The potential for growth is high, because, statistically, one in ten companies uses this type of services, and the demand increases. Two main reasons for such a sudden increase can be found in the number of programmers on the market and the willingness of foreign companies to outsource IT services to Poland. Let's dive into some more details.
IT outsourcing in Poland: Overview
Nowadays, "every company is a tech company". At least to some extent. Leading a business is a never-ending process of constantly improving, expanding and modernizing products and services. Sooner or later everyone realizes that good software can boost business and bring some real advantages. In extreme cases, companies get big almost overnight with no resources to support that success. Your company may prosper very well but it may happen that at some point you will notice that you're lacking the proper software.  Let's outsource it!
In recent decades, Business Process Outsourcing (BPO) has become a standard instrument in the strategic management toolbox. The continued growth of the global BPO industry is expected to grow at an annual rate of 8.7% between 2018 – 2022 to a value of $278.6b.
The development of IT outsourcing is a result of a growing demand for IT services and a talent shortage. The labor market is in high demand, and finding IT professionals isn't a piece of cake. This is confirmed by a piece of research conducted by Indeed, according to which 86% of hiring managers and recruiters find it challenging to source and hire technical talent. Furthermore, over a third (36%) think it is "very" challenging.
Domestic markets have become a competition between local tech companies, and as a result they are forced to look for alternatives. Companies all over the world trying to find the best outsourcing solutions. Even a report prepared by Statista reveals this. Over 45% of respondents from IT companies say that the reason for IT outsourcing is that it provides access to skills that are not available in-house.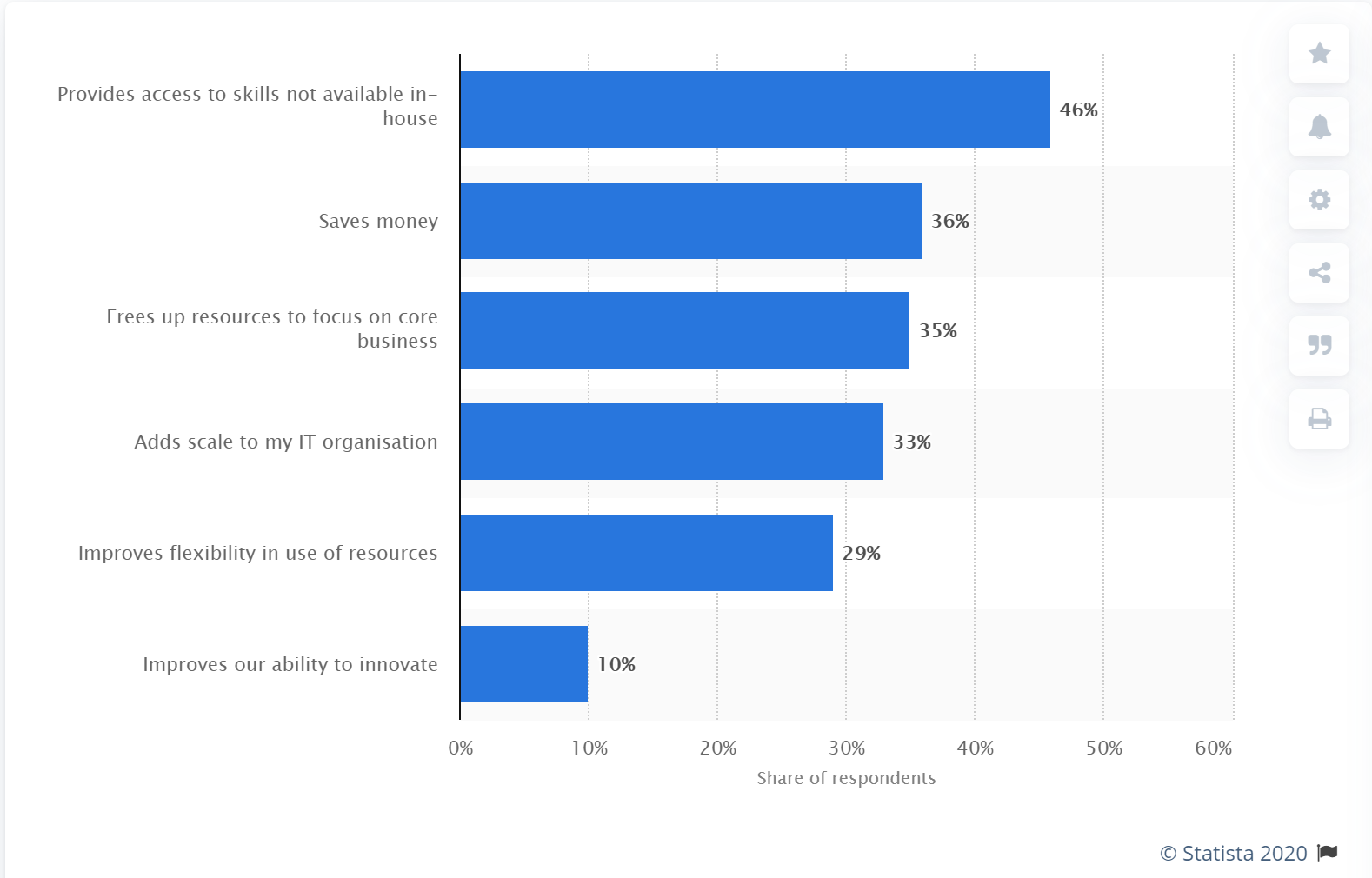 Asia's countries like India, Pakistan or the Philippines are common choices for outsourcing services and it is not surprising, because it is the most cost-efficient way of IT outsourcing. However, cultural mismatch and time zone differences are issues that few enterprises can accept. If you are looking for a country which is the perfect place to make business and has a big talent pool of highly skilled developers, there is a country in Europe which meets these conditions. One of the most popular destinations for IT outsourcing is Poland.
According to the 2019 A.T. Kearney Global Services Location, which analyzes the potential for providing information technology (IT) and business process outsourcing (BPO), Poland is the 24th most attractive outsourcing location in the world. Between 1990 and 2015, Poland experienced the largest GDP growth per capita among the European and OECD countries. Tholon's TDGIndex that lists the top Digital Nations and Super Cities gave Poland the 14th position globally.
In 2020, NimbleFins recognized Poland as one of the most startup-friendly countries in Europe. Investment experts appear to agree; Poland is seeing a large increase in VC spending, including a record 477M euros raised in 2020. According to Silicon Valley venture capitalist Tim Draper, "Now is the perfect time to look into investing in Poland. The region has always had great technology but now they are starting to connect it to the marketplace. Poland is a generation ahead of other countries in the region in understanding the market system."
The business services hubs all over Poland are becoming increasingly attractive to foreign investors. As highlighted by ABSL, the country has now become a regional leader in the overall number of centres and the total employment within the industry providing modern business services to global corporations.
In Q1 2020, more than 1,500 Polish and foreign business services centers were operating in Poland, including Business Process Outsourcing (BPO), Shared Services Centres / Global Business Services (SSC/GBS), IT and R&D entities. They employed a total of 338,000 people (10% more than in the previous year).
From the beginning of 2019 to the end of the first quarter of 2020, 74 new centers began operations, including 15 in Q1 2020. Foreign centers dominated in these new investments (64.2%). It is estimated that over 400,000 people will be working in the Polish business services sector by 2022.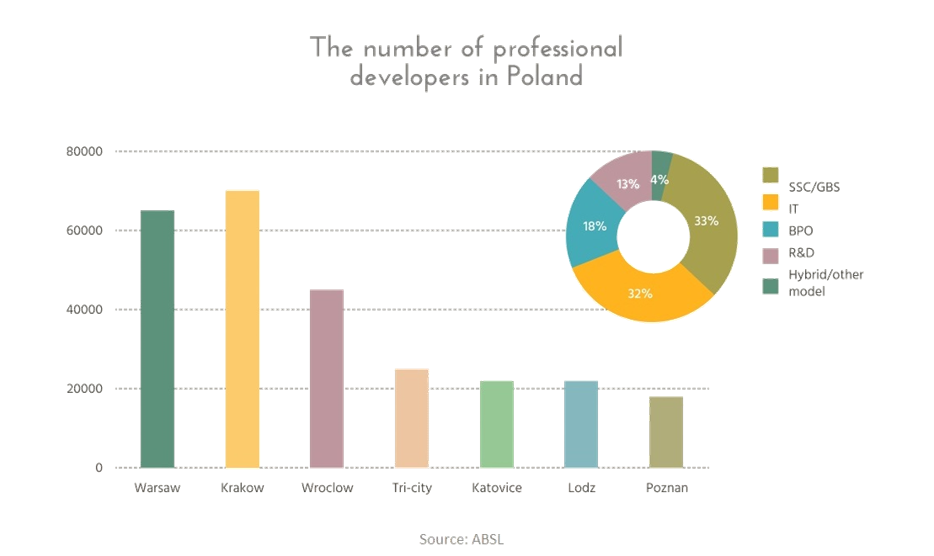 Poland's IT outsourcing sector is made up of roughly 700 business service centers that employ more than 150,000 specialists. Polish IT community accounts for nearly 25% of the entire developer population in the Central and Eastern European region and the tech talent pool currently counts approximately 300k tech experts all over the country.
According to Statista, Poland's IT outsourcing services sector hit a record-breaking $2,255.05 million in revenue in 2020. That marks five years of continuous growth and a 112.5% increase from 2016. The projections of $2,311.72 million in revenue for 2021 are not looking bad, either, which indicates the industry hasn't been hit too hard by COVID-19.
In 2019, Poland ranked fifth in Harvard's Business Review's list of the most tech-skilled labor markets in the world. The COVID-19 crisis hyper-accelerated digital transformation in many organizations, which has only increased demand for Poland's highly skilled, ambitious IT professionals.
There are many good reasons why Poland's developers are so highly sought-after developers in the international market. This is important for all companies that wish to outsource ambitious and challenging software projects to equally determined, detail-oriented, and hungry-for-success team members.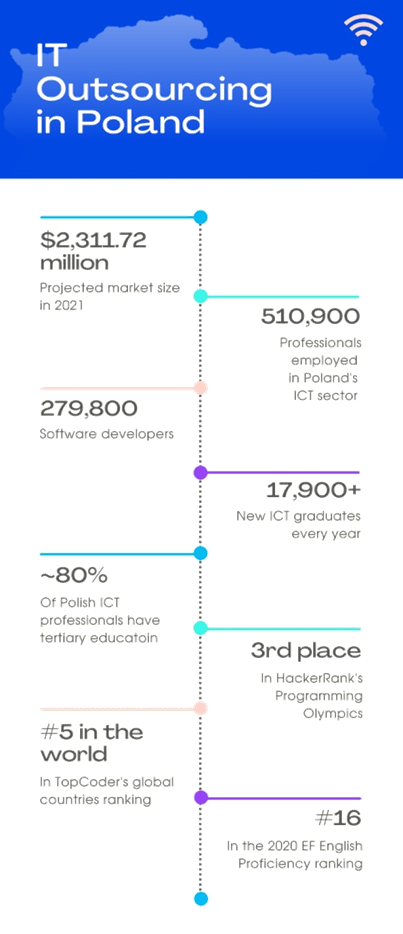 Polish IT professionals consistently rank high in international programming contests like Microsoft Imagine Cup, Google Code Jam, TopCoder, or the Central European Programming Contest (CEPC). Every year, several organizations conduct surveys and Poland never misses to get the top positions.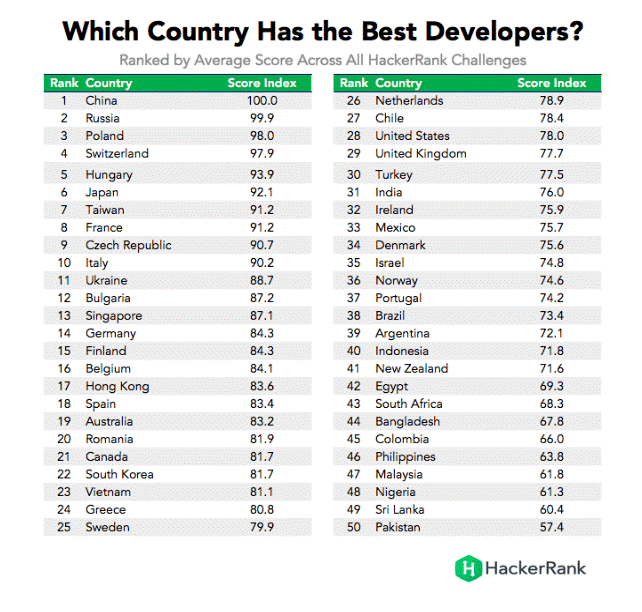 According to many rankings, Polish developers are among the best ones in the world according to one of the recent rankings by HackRank, an online platform allowing developers to practice their coding skills and tech companies to recruit programmers.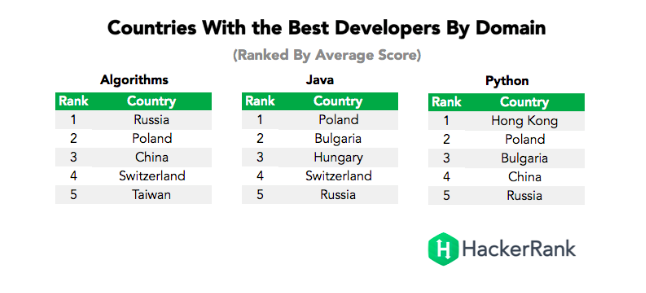 Poland's IT outsourcing community is well-versed in cutting-edge technologies, such as cloud services, IoT, cybersecurity and IT Infrastructure. In Java programming language, Polish developers were recognized as the best in the world. Moreover, they are magnificent when it comes to Python and also highly skilled in creating algorithms the domain with the most popular challenges. Poland's leadership in the IT sector is clear – it currently occupies the 5th position in TopCoder's global ranking.
Poland has a strong educational base. Starting in elementary school, students study mathematics, sciences, technology and the basics of programming. Rigorous academics continue through post-secondary education at more than 500 universities, two of which have ranked in the top 10 universities from emerging Europe and Central Asia. Annually, over 17 000 IT students graduate from 18 different technical universities matching the needs of tech industry which means plenty of specialists who can start working in software development companies.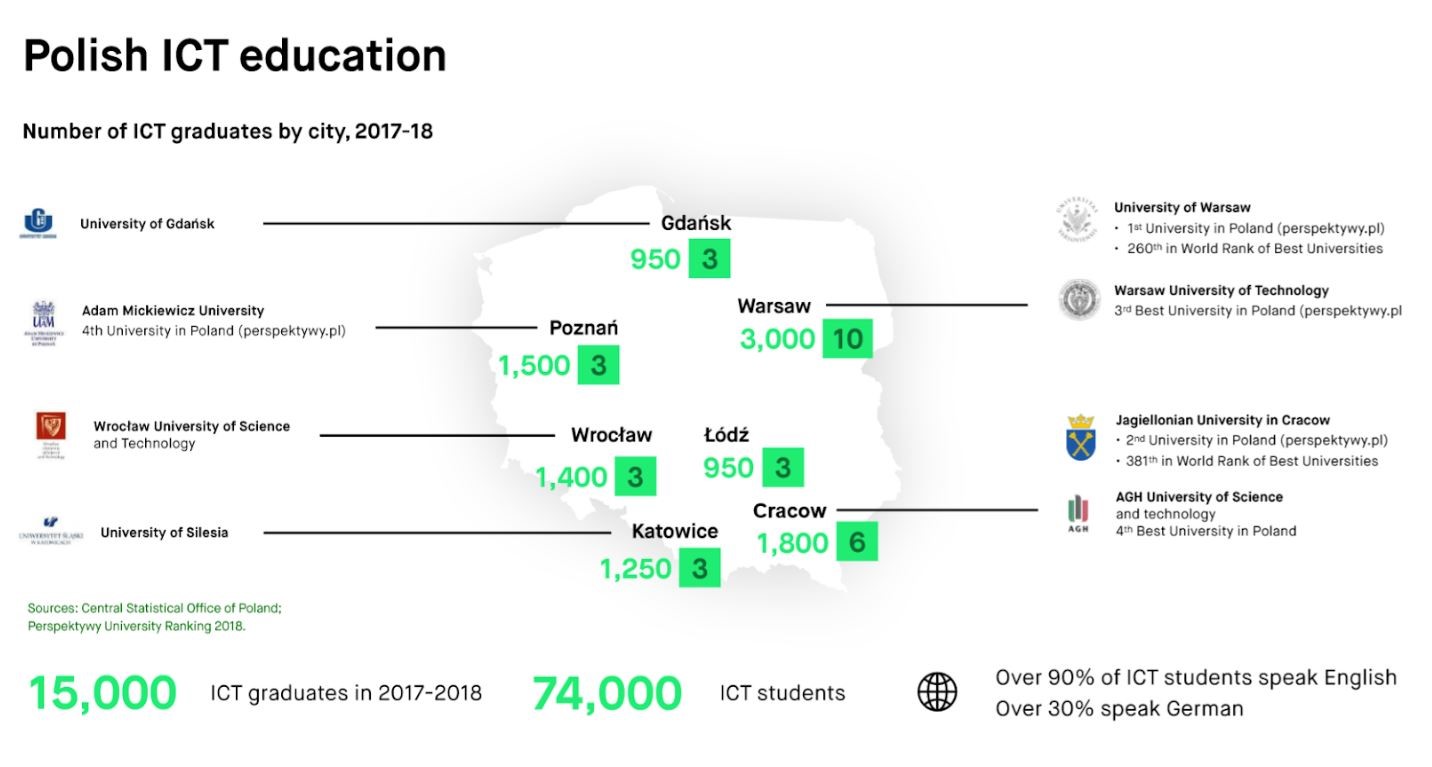 The vast majority of Polish developers also have advanced language skills. Fluent English is a standard among Polish graduates and employees, placing them high in the English-driven tech world. Poles are considered to have a high EF EPI index, which places them on 14th position in Europe and 16th in the world (as per 2021 data). Therefore, it's relatively easy for the majority of Polish software developers to cooperate with international clients.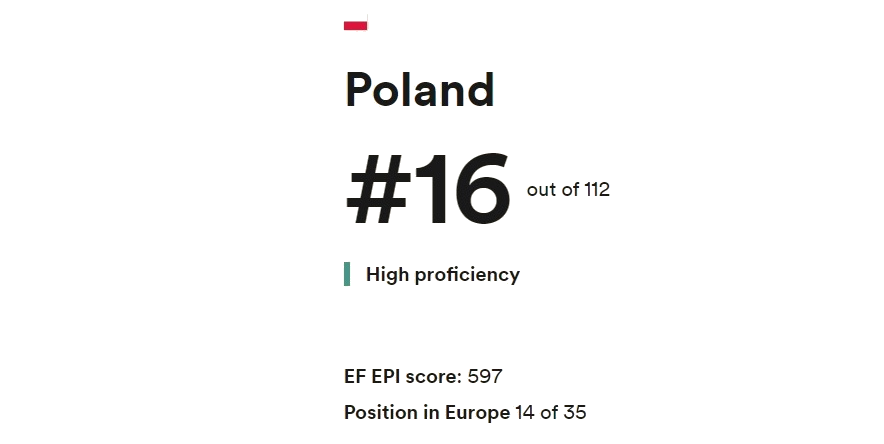 In addition to mastery of information technology and excellent knowledge of the English language, Polish developers are hardworking, innovative and competitive. They pride themselves on conducting business with integrity, making honest estimates and delivering the most effective and economical solutions to save their clients both time and money. This tenacity and work ethic were even recognized by HackerRank, which in 2016 named Poland one of the top three countries that never give up.
Apart from the technical skills and experience of the Polish developers, there's one more important element that makes Poland a great outsourcing partner. Thanks to its strategic location, Poland has minimal to zero time zone difference with virtually all European countries. Poland is located in the Central European time zone which means easy everyday communication for potential clients from both Western Europe and Scandinavia, as well as from the Middle East or even the United States.
One of the best aspects of outsourcing IT to Poland is the lack of significant cultural differences with most, if not all, Western countries. The similarities in cultural and social norms that allow to fully understand each other. The way Polish people work and manage their organizations is very similar to what you can experience in the countries that tend to outsource their IT services abroad the most such as the UK, the US, Germany or France.  Not only does that help streamline cooperation, but it also means you can expect a work ethic much like that of your in-house staff. The US Chamber of Commerce in its Intellectual Property Index 2020 give Poland 70.56 points, out of max 100, acknowledging this country the safest one among popular outsourcing destinations. All of that makes outsourcing to Poland a safe bet.
Last but not least, many Polish engineers have deep experience working on outsourced projects over the years with foreign clients. Adapting to an extended team won't be an issue for most of them.
Conclusion
With the developing world, the outsourcing of software development market has been increasing at a considerable rate. Due to the difficulties of finding IT professionals in most technologically-developed countries, IT outsourcing is now often a must, or at least the best alternative option. It has now become a crucial aspect of business processes. Low costs and the high-tech services offered by the outsourced companies make it more demanding among businesses.
If you are looking for a country which provides a high quality of IT services combined with excellent communication skills and economic factors and all you want is to spend less, achieve more, finish with a great quality product and make your working day a lot easier, then Poland is a great choice to look at when you are faced with having to outsource tech work. That way you can be sure that you can focus on your business, and you'll receive a high-quality digital product at the same time.
Outsourcing IT to Poland innovatively serves businesses with their market needs and lets companies save a significant amount of money that therefore can be allocated to other purposes. It helps organizations to cross their thinking capabilities and come up with fresh ideas.
You need more human resources to implement your IT project? At ITminions we are in charge of contacting and selecting the right IT team or particular IT specialists on site or remotely in Poland to give you the guarantee that your project will accomplish with the deadline and the budget you set.